I really feel like all my blog posts should have a 'point' or a specific focus to them to make them as informative and interesting to read as possible, however I have come to realise that that can sometimes be quiet a tall task when also trying to keep up a regular schedule. Sometimes other things in life just get in the way and I either haven't had time to make something to tell you about, or I have had the time to make it and not enough daylight hours to take pictures to be able to show you. So rather than post nothing at all when you expect something from me I thought I would just tell you a bit about what's going on in Fox land.
As you know I am massively busy with all this craft fair malarkey. Its actually really nice to refocus on making things which I haven't made for such a long time, and remember how and why I enjoyed it (more on this later when there is some daylight in my life!). Its also really nice to try out some new ideas and get together with other crafty folk and see all their talent focused into some amazing things. I am really enjoying the process of this, but I am also really looking forward to being able to refocus on other things afterwards.
Mr Fox is ramping up to the last weeks of his dissertation so he really truly is head down in his laptop most of the time. It will be great when he finishes because I feel like we don't spend much time together in the week at the moment. Its not a major problem, just one of those things, but it will be nice to have him back again. It has meant I have had all the time in the world to focus on making things which is good. I am wondering how I am going to find time to make stuff once he has finished the dissertation as most of our other hobbies are actually 'together' hobbies. I think I might try to structure my time a bit and make some designated specific sewing time, otherwise I always feel really guilty when I go off and do something on my own. His favourite is that 'I'll be back in 10 mins' and 2 hours later I come back saying 'sorry, I got distracted and I just wanted to finish xxx' (you know how that goes right?). Do any of you have this kind of issue? I imagine there are many of you with small children to work around as well as husbands and work and everything else.
I have a sewing list as long as my arm. I have the Zinnia skirt on the go, the lady skater cut out ready to attempt the overlocker and I need to make a velvet circle skirt before it gets too warm to ever wear it. I have some spectacular fabric to match my new shoes which I want to make a dress out of to wear to a wedding in the summer, and I have just bought the Deer and Doe shorts pattern which I know I am not going to be able to resist for long. This is just the tip of the iceberg as well. How do you manage your sewing pile? Priority, whim and fancy, or do you actually make a queue system? I think I need some help on figuring this out!
I also got a fabulous new handbag. You may or may not be aware that Blizzard have released a new free to play game called Hearthstone. I am obsessed with this shit, and literally cannot wait for them to release it on IPad (its honestly not the only reason I wanted an IPad!). But of course if I am going to be able to truly portable play this I need to be able to carry the IPad about with me don't I, cue a NEED for a new handbag. I scoured the internets for days trying to find something big enough for this and all my other crap, with a zip so people can't whip it out from under me. I really couldn't find anything on the 'internet high street' at all, but eventually I stumbled across this Etsy Shop:
Milloo
. These things are gorgeous and exactly what I was looking for, and the bonus, he is in Greece so lovely EU shipping and no import tax, SCORE. I really wanted the Elessa bag in stripe canvas but he only had one with a yellow trim and you know it needed to be pink. So I emailed him and he very happily offered to make me a custom order which is now listed as an option to buy, yes my taste is awesome haha! Even with him custom making this it took less than 2 weeks to turn up and he provided excellent customer service, I can't recommend this shop enough, so thank you very much.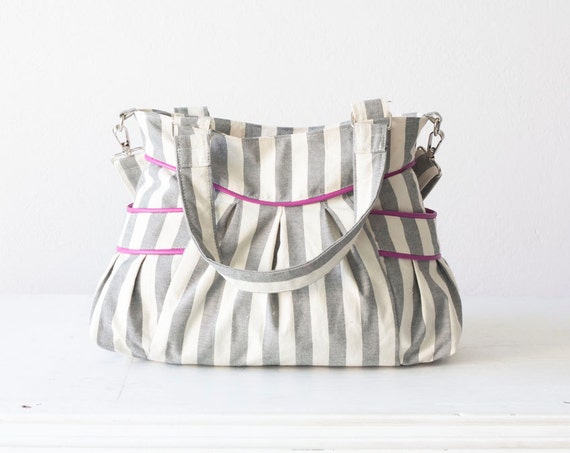 I think that's about it for now from me. I have a busy weekend planned with Kitchens and Friends and of course Mummy, but hopefully I will find some time in there to take some pictures for more bloggy goodness.